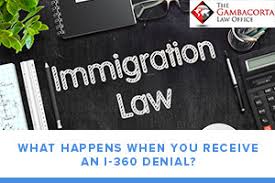 In special situations, submitting an I-360 Petition for Amerasian, Widow(er) or Special Immigrant for a family member or employment based permanent resident status may not put applicant at risk of being put in removal proceedings if a denial is issued.
Certain circumstances that can land you in direct removal proceedings are:
If you have a criminal history
Submit an I-360 at the same time you file an I-485 Adjustment of Status that is somehow denied
You gave false information on any application form
You were previously deported
Criminal History
Having a criminal history can put applicant in serious harm of getting deported even if a Form I-360 was not filed simultaneously with a Form I-485.  This can be a shocker because the I-360 requests that you enter information about your immigration history but not about your criminal records.
Regardless, USCIS can easily view your criminal history anytime you provide any visa application, even if it was not the information solicited.  If your criminal history is very grave, USCIS can transfer your case to an immigration court by issuing you a Notice to Appear (NTA) which is the beginning of removal proceedings.
Only if your I-360 VAWA Application is denied, then USCIS will send you an NTA, because otherwise you might have the opportunity to fill out an I-485 Application for an Adjustment of Status which if found eligible you will then receive a U.S. green card.
The question that has been asked over the years is "What are the probabilities that an applicant will be sent to removal proceedings if USCIS denies his or her I-360 Application?"  According to a memorandum USCIS released in 2011, USCIS can choose whether or not to send immigrants to immigration courts for removal proceedings, even though VAWA-specific decisions were not addressed.  Always stay informed regarding the U.S. immigration law since USCIS updates its policies frequently.  To learn more about removal proceedings and the Violence Against Women Act (VAWA) speak with an immigration attorney.
USCIS representatives can focus their provisions on transferring cases to immigration courts as long as the applicants are a threat to the public and national security.
Any person having one or more criminal convictions who has no deportations on his or her record whose VAWA was denied might be served an NTA immediately or some other time.
Simultaneous Filing of Applications Can Lead to a Deportation
Submitting both I-360 and I-485 Forms can put foreigner at risk of getting deported.  If spouse for applicant is a U.S. citizen spouse, the VAWA applicant may be allowed to complete both forms.  First time applicants who are spouses of U.S. citizens may not have to wait for an approval and can go ahead and submit their I-485 applications, however, this might not be in one's best interest because USCIS will have both your immigration and criminal history, if any.  While a denial of an I-360 can send you into removal proceedings there are other options in which you can fight your case.
Misinformation can Negatively Affect Your Application
Getting a denial because of ineligibility is not as impacting as getting denied because you lied.  If the USCIS determines that you lied on your VAWA, application or other one, the person reviewing your case can charge you with fraud and put you in removal proceedings. If you think there is a mistake on your application it is important that you ask for time to explain the mistake.
Previous Deportations
If you were previously deported and then you came back to the US without authorization or if you never left and your I-360 is denied then it is very likely that you will be deported.  This deportation could be immediate without even being issued an NTA.
If you have been denied an I-360 or you are thinking about applying for you I-360 it is advised that you speak to an immigration attorney. Call The Gambacorta Law Office today to assistance in your immigration matters.