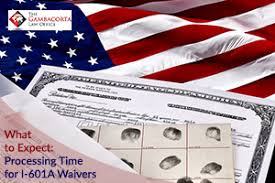 The processing time for I-601A Provisional Unlawful Presence Waivers is about 4 to 6 months. Usually the application is approved around the time of the immigrant visa interview. In certain circumstances, your provisional waiver processing time can be shortened by getting your case expedited by a USCIS Officer.
USCIS officers handling each case, work hard to finalize the processing time for every case and, an updated notification is released upon completion of the process.
Certain I-601A Cases can be Expedited
In certain circumstances a USCIS officer can expedite a case if for some instance a long wait may negatively impact the life of the applicant or any of his family members who are U.S. citizens. While this is a possibility, you should not expect that every case will be accelerated, talking to relatives or people you know who work for USCIS will not help your case move faster either.
Somethings to consider to make your case go faster:
Submit relevant supporting evidence that does articulate, clear, concise and concrete terms that prove extreme hardship exists.
Use correct information and do not exaggerate your life circumstances.
Complete every application form and make it readable for immigration agent to see.
Explain in persuasive language and in detail why the hardships exist.
In order to meet these requirements to the best of your ability, familiarize yourself with the U.S. immigration laws and ask an immigration attorney to help with your I-601A Waiver.
I-601A Application Stipulations
The stipulations for an I-601A remain the same regardless of which home country the applicant is from or the type of hardship that is being endured:
The person applying must be 17 years old or over.
You must have an approved I-130 Petition for Alien Relative or an approved Widow(er) or Special Immigrant (Form I-360).
Include the required supporting documentation for an I-601A Waiver.
All applicants need to be physically present in the United States of America.
Additionally, applicants must meet all other requirements on Form I-601A and the instructions for the form; as well as all requirements outlined in 8 CFR 212.7(e).
To learn more about the I-601A Waiver seek legal advice.  An immigration lawyer will be able to assist with the following proper procedures.
Important Notice
Thousands of applicants who submit their I-601A Provisional Unlawful Presence Waiver think they have "special considerations," when in reality applicants who are applying for I-601 Application for Waiver of Grounds of Inadmissibility are generally in terrible situations.
Foreigners applying for I-601 Application live outside of the U.S. away from those who need an approval the most, while they wait on their pending waiver.  In this situation the immediate family relatives who are Americans living in the U.S. may experience hardship because either their spouse or parents are not present in the country.
Expediting a Process is Rare
USCIS officers seldomly expedite an I-601 Application for applicants.  This means that applicants for I-601 applications should not have high expectations that their pending I-601 submissions will be expedited because of the character of the hardships.  That is not the case since the decision is in the hands of the agent handling the case and the supporting documents you provided.
What may help your case processing go a little faster is submitting a very informative packet that has all the accurate information needed for the immigration officer to review.  With all the requirements in place there will be no need for USCIS to send out a notification requesting more details.
An Immigration Lawyer Can Help You
It is not advisable to complete a waiver packet without the help of an immigration attorney, especially if you are in doubt about the I-601A procedure and your future.  Call The Gambacorta Law Office at 847-443-9303 for a consultation at any of our office locations in Arizona, Illinois and Texas.