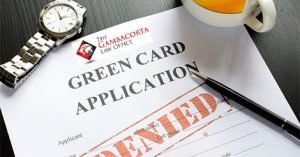 Reasons for Green Card Denial
Foreigners pursuing a Legal Permanent Resident Status often have doubts about whether their green card application will be approved or declined.
The truth is, if every applicant submits the correct requirements and follows the proper application procedure then there should be no problem. Below you will find multiple common reasons a green card will not be approved. But there are instances when green cards are denied. If you're looking for reasons for green card denial, keep reading below.
Health Issues
Within the resident card application process a medical exam must be taken by every applicant and the results must be submitted to the U.S. consul or officer interviewing foreigner.
Note that you must only go to a designated U.S. government authorized doctor; failure to comply may result in a delay of processing and could be a reason for green card denial.
Depending on the results a decision can be made on the following:
If you are found to have an infectious disease that poses a threat to the public.
If you fail to provide documentation regarding required vaccinations and are reluctant to have them taken before approval of green card.
You are a drug addict.
You have a mental disorder that is a threat to others and yourself.
Crime Based
A conviction of a crime can affect your green card application and be a reason for green card denial. If you intend and or are found suspicious of coming to the U.S. to commit a crime you will be denied a green card.
According to USCIS crimes of "moral turpitude" include but are not limited to:
commercialized vice
money laundering
drug trafficking
Prostitution
Serious violations of religious liberties as an agent of a foreign government and fraud.
For Consular processing within the Form DS-260 and Form I-485 Application to Adjust Status there are certain questions that must be answered accurately for crime or security purposes. Any of these questions answered with a "yes" with no given explanation may be a reason for green card denial.
Security Purposes
Requesting admission to enter the United States of America to breach U.S. security laws may also end in a denial of a green card. Participating in terrorist efforts, genocide, or involvement in any groups dangerous to U.S. foreign policy and previous participation or membership in the Nazi or totalitarian groups will negatively affect green card application.
Attempting to engage in vicious activities such as sabotage, espionage, or violating any U.S. export law connected to goods, services, technology or unlawful activity to depose the United States will be a reason for green card denial.
Public Charge
If a U.S. Consul finds that a foreigner might probably become dependent on financial support from the U.S. government for an indefinite time frame; his or her green card will be declined.
These are some of the supporting details the officer handling the case will review to determine whether the applicant will be a public charge:
Age
Health
Assets
Resources
Education or skills and family status.
A green card applicant will not be considered a public charge if someone signs an affidavit of support for him or her or if immigrant is not within the category of green card seeking foreigners who need a signed affidavit of support submitted on their behalf.
Immigration Law Breakers
Entrants who have entered the U.S. unlawfully, that is without documents by secretly crossing the border, or by misleading representation, or failure to appear in court for immigration removal proceedings or while abusing a visa process such as going against the stipulations of a visa category will be denied a green card.
Negligence to Follow Application Stipulations
Before completing a green card application carefully read instructions and follow stipulation procedures. The process requires that several forms are completed, supporting documents and fees submitted. Negligence to comply can result in a denial.
Note that if you are filing a green card application overseas or in the United States the process will be slightly different. Ask an immigration attorney to help you.
Not Showing Up for Appointments
Not showing up for appointments can drastically affect your green card application. If at any time USCIS has scheduled a biometrics appointment or later an immigrant visa interview has been scheduled and for some reason beyond your control you cannot attend; reschedule your appointment. If you don't, now showing up can be a reason for green card denial.
Changing Employer After Submitting Form I-140
Changing jobs does not help your green card application to move forward, even though you might have an approved I-140 visa petition. In this case applicant must meet certain demands before green card processing can continue.
These requirements are:
I-485 must be pending (anticipating a USCIS decision) for 180 days or more
The new job post must be similar to the previous one or as described in the labor certification and I-140 petition.
Mistaken Denial by Immigration Officers
Every U.S. government agency has its flaws. This means immigration officers are bound to err in some aspect of their immigration law career. Some are prone to losing supporting documentation, filing fee checks, incorrectly spell a client's name as well as listing an incorrect date of birth or may even fail to send applicant important notice.
If you received a notice of intent to deny your green card application or a final denial notice, it is very important that you review notice to see if a decision was made in error by an immigration officer or whether your case was poorly processed.
Though some of these reasons for a denial may seem unfair or may be for faulty reasons of the applicant it is advised to consult with an immigration attorney for a thorough guidance on how to apply for a Legal Permanent Resident status.
Contact An Immigration Attorney
Seeking the assistance of an immigration attorney is a secure route to take when applying for lawful permanent residence, especially if you don't know the reason for green card denial. Do not wait any longer and call The Gambacorta Law Office today at 847-443-9303 for an office consultation. We are located in Arizona, Illinois.
Related Articles :