Due to the complexities of the U.S. Immigration Law many Green Card applications are often denied by the U.S. Consulate in foreign countries or by the USCIS in the United States of America. There are several reasons as to why the immigration administration may legally deny a green card application.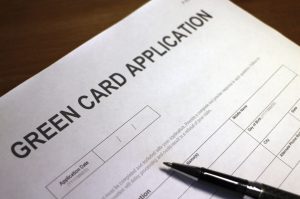 Health Associated Problems
When applying for a (legal permanent resident status) a medical evaluation is requested by USCIS and is done by a doctor authorized by the government.
If the medical results state that a person has a contagious disease that is threatening to the public, or that the person is a drug addict or has a physical or mental illness and is a risk to themselves or others, and even failure to provide confirmation of essential vaccinations, can cause a green card denial.
Criminal Background
If you are an ex-convict who has committed various misdemeanors and you plan to commit them upon coming to the U.S., your green card application may be declined.
Crimes that may disqualify you include; crimes of moral turpitude, in particular offenses such as illegal drug smuggling, commercialized vice, prostitution, money laundering, fraudulent felonies, and other serious offenses against religious liberties as an officer of a foreign administration.
If you are applying from the U.S. fill out Forms DS-230 for consular proceedings and a Form I-485 for an adjustment of status. There are several crime and security affiliated questions every applicant must answer honestly.
A yes answer to any of these questions, with no clarifications to support that you should be approved in spite of your background, will result in a green card denial.
Security Purposes
Seeking entrance into the U.S. to break the security laws of the United States of America, such as participating in terrorist attacks or previous engagements or connections to the Nazi or totalitarian groups, acts of genocide or involvement with any hostile groups that violates U.S. Foreign Policies may result in a green card denial.
Participation in espionage, damaging U.S. property or breaching United States export laws of goods for the purpose of defeating the United States are significant reasons for denial.
Public Charge
If at the time of applying for an adjustment of status (legal permanent resident status), it is revealed that you will have a low income while residing in U.S and you might be financially dependent on the government for a prolonged time you may be denied.
The USCIS has the control to decide whether you fall under a public charge by examining your age, medical health, assets, resources, family status, educational skills and financial standings during the time of your application process.
Immigration Law Breakers
Your green card will be denied if you entered or reentered the United States of America, unlawfully, as a stowaway, or with a false identification, fraudulence, or if you failed to appear at your immigration court hearings or if you have violated visa processing by breaking any stipulations administered by immigration officers.
Negligence to Comply
Many application forms, supporting documents and fees are requested throughout the process and neglecting to follow instructions carefully and a lack of the necessary information to help your case could result in a denial.
Missed Interview Appointments
When applying for a green card, USCIS schedules a (Fingerprinting) Biometric Interview Appointment and an interview appointment. Failure to attend both appointments may end in cancellation of interviews and rescheduling must be done if needed. Sometimes this will lead to a green card denial.
Denial of Visa Petition
Regardless of whether you are filing for a green card based on employment or family, your sponsor must file a Form I-140 or a Form I-130, accordingly. If this petition is denied, the green card application will be dismissed.
An example of denial would be if a stepmother provided a visa petition but USCIS decided that there is not enough evidence to support the stepparent relationship, the application process will be terminated and disregarded.
Quitting your Job After Petitioning for a Form I-140
Changing employment while having an authorized Form I-140 visa petition will not help your situation. For your green card process to move forward after having changed your job, you must meet the AC21 Portability Requirements. If the eligibility requirements within Section 106(c) of AC21 are not met, the applicant will not qualify for employment green card.
A Mistaken Denial
Almost every administration like USCIS and U.S. Consulates have their shortcomings. There are times when USCIS officials may accidentally send requests for evidence you have already submitted that may not be applicable to your green card process.
Sometimes filing checks and supporting documents have been misplaced, names have been misspelled, date of births have been listed incorrectly and certain notices have been sent to applicant, petitioner or attorney.
This is why it is important to have a green card attorney to represent you. Immigration attorneys are able to identify and rectify your situation and update you promptly.
Hire an Expert Green Card Attorney in Skokie
There are many possible reasons for a green card denial, every applicant's situation is different. Don't let the twist and turns of the U.S. immigration system confuse you. Take the time to hire an expert green card attorney in Skokie at Gambacorta Law.
The Gambacorta Law Office is ready to help you achieve your dreams of working and living in the United States of America. Simply call (847) 443-9303 for an appointment. Our offices are in Arizona and Illinois.
Also Read: