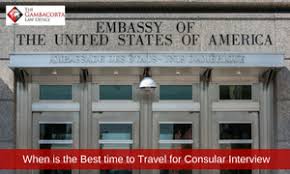 Applying for an immigrant visa from the U.S. will require that you attend an interview at the designated U.S. Consulate in one's own home country.  The notification will have specific instructions regarding the date and time the applicant must attend interview.
Traveling to the U.S. Consulate
If the U.S. Consulate is located in a city far away from your hometown you need to schedule your travel plans about a week or two in advance.   Planning ahead of time allows for the opportunity to go for medical exam at the physician authorized by the U.S. Consulate and if there is a delay in obtaining medical results you may still have a little time for interview.
Arriving early the day of the interview is advised this way if there is a long line and you wait longer than your scheduled visa interview, you won't have to worry.  The U.S. Consulates often schedules applicants and allows a large crowd to go inside each time.
Plan at Your Own Convenience
Planning at one's convenience means that you need to look when is best to travel abroad considering your safety at all times.  Research for the U.S. Department of State Travel Warnings.  Be mindful of the likelihood of crimes committed around U.S. embassies. Local delinquents know where the embassies are located as well as people going for interviews are loaded with cash in hand.  Safeguard yourself and be on the lookout for con-artists who loiter within the Consulate area, who try to persuade people they will not enter if they give them some money.
As You Arrive at the U.S. Consulate
Upon arrival at the U.S. Embassy, the administrator will check the packet with supporting documentation, along with your forms and other elements you brought with you ensuring that all requirements are intact.
An officer will review your documents and make you take an oath.  The officer will ask questions very similar to the ones on your forms.  If you forgot something, it is much better to say you cannot remember than try and guess the answer.
The officer will proceed with questions that determine whether or not you qualify for the visa. The question may vary depending on the type of visa you are applying for.  The interview can take about 20 minutes or more.  If the officer determines that everything is in order than you will be asked to return on another day to pick up your visa.
If there is a problem with your case, you may be given the opportunity to provide the requested evidence or you may be denied on the spot.  The officer may request additional information or let you know if you need to apply for a waiver.  You should ask for any requests in writing, it should state what is needed and why.  At this point you should reach out to an immigration attorney for assistance.
So you got your Visa. What next?
DO NOT OPEN THE ENVELOPE given to you by the officer.  You will need to give your sealed envelope to the U.S. Customs and Border Protection officer when you arrive in the United States.  This officer will do a final check of the contents and check for any problems.  The officer will then put a stamp in your passport to state your type of visa or status.
Talk to an Immigration Attorney
If you need assistance with the immigrant visa process, contact The Gambacorta Law Office today at 847-443-9303 for a phone consultation.