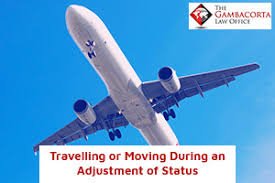 The process of applying for a U.S. Green Card within the United States is known as an Adjustment of Status.  To start, you must complete Form I-485, Application to Register Permanent Residence or Adjust Status, and submit the required supporting documentation along with the application fee.  Then you must wait several months for USCIS to review your documentation to make a decision.  If you plan to move or travel while your case is pending make sure to alert USCIS.
What happens if you don't notify USCIS?
You should not move before notifying United States Citizenship and Immigration Services.  Be sure to let USCIS know 10 days before your departure, know the address where you will be living.  Failure to let USCIS know of address is a misdemeanor.  If a person is convicted, the applicant (or the parent or legal guardian of an immigrant child who is under 14 years of age, who is required to provide notice) will be penalized with 30 days of incarceration and fined $200.  The foreigner may then be subjected to a forcible deportation from the U.S.
Not providing USCIS with a notice could result in USCIS sending important updates concerning your case to the wrong address and you missing any future interview.  The applicant has no excuse or cannot say that he or she never got an interview notice.  You cannot depend on the individuals living at your old address to mail you any USCIS notification to your new address, that is not how this process works.  It is the responsibility of the client to follow through with USCIS.
Updating USCIS is Simple
It is advisable to fill out Form AR-11 online on the USCIS website and follow instructions accurately.  If you need help, talk to an immigration attorney.  If you submitted Form I-765, Form I-131 and Form I-485 enter the information required along with the receipt number.  Any other questions you have ask your legal representative.
Travelling During an Adjustment of Status
Sometimes unforeseen circumstances may arise and may demand that you travel overseas.  Regardless of your purpose for travelling abroad you must still provide USCIS with documentation of your travel.  Leaving the country without official authorization may cost you a hefty price.  Though you may be able to travel, do so carefully.  According to U.S. Immigration Laws, packing up and going abroad without letting USCIS know, means you are abandoning your adjustment of status application and you will have to start the process all over.  You will need to pay the application fee again as well.
If you entered the U.S. with a K-3 Fiance Visa, you can enter and leave the U.S. as needed without any complications.  It is advisable, however, that you apply for an Advance Parole, to protect yourself. Your options are to separately file for advance parole or at the same time you are submitting your adjustment of status.  Note that, though an advance parole may be the route to go it is not always guaranteed unless your evidence supports your claim that you need to travel abroad.  Do not leave the country if in doubt and in this case seek legal advice.
If In Doubt Ask an Attorney
Whether you are moving to another location or traveling out of country, always talk to an immigration lawyer.   Thousands of immigrants have ensnared their future for not informing USCIS about their travelling or moving.   If you are in this situation call The Gambacorta Law Office in Arizona at 847-443-9303 or Illinois at 847-443-9303.