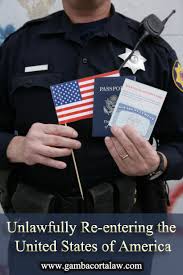 Residing in America for more than 180 days and re-entering after having faced deportation and denied admission can make your immigration situation very difficult.
This is considered to be a federal crime and it comes with serious consequences.
One way to amend such a situation is by obtaining special authorization for readmission into the country, however this is difficult to receive.
If this is something you are facing it is recommended that you don't take your immigration journey along, be sure to retain an expert immigration attorney.
Sanctions for Unauthorized Reentry
Sanctions for re-entering the country with authorization may occasionally entail that the individual promptly reinstates his past order of removal. There are other penalties that may follow and they are:
Person(s) may be subjected to a fine and approximately 2 years of incarceration if found guilty of unlawful reentry in the U.S. as well as, voluntary withdrawal, or forcible relocation by an Immigration judge.
Subject shall be penalized with a fine and around 10 years of imprisonment if the reason for removal was for committing 3 or more felonies that may have involved drugs, offenses against a person or a crime besides aggravated assault.
A Person may be fined and face roughly 20 years of jail time, plus a permanent ban on reentering the U.S.
Reinstating a Previous Order of Removal
According to the Illegal Immigration Reform and Immigrant Responsibility Act (IIRIRA), when a non-citizen is deported from the U.S. and enters again without inspection, the previous order of deportation is reinstated.
Once that happens the person will not be allowed an immigration court session to request for relief from expulsion. Before he even serves any other penalties he or she will be removed based on the previous order.
Procedure for an Order of Removal
It is not an easy task for an Immigration Judge to decide whether or not someone's previous removal order needs reinstatement. The immigration Official must:
Receive the former Removal Order
Identify that this is the same person who was recently removed from the country.
Determine whether the person that reentered is in the country illegally.
If in the event the individual cannot be identified and it is questioned, the previous order cannot be reinstated. Evidence must be substantiated, in order to conclude with a strong decision.
More Consequences
If it is decided that reinstating a removal order is fitting, the foreigner should be handed with a notice of determination and the subject has the right to challenge this evidence.
If a testimony or statement is given by the immigrant, the judge must reevaluate his decision before reinstating the order, even though he has all authority to move forward or dismiss the case.
Circumstances in Which a Removal Order Cannot be Reinstated
An immigration judge has no authority to reinstate a previous removal order on a foreigner who:
Is able to request an adjustment of status or legalization under § 245A of the INA.
Has petitioned for an adjustment of status within the jurisdiction of the Haitian Refugee Immigrant Fairness Act (HRIFA) or the Nicaraguan Adjustment and Central American Relief Act (NACARA),
Or has faced persecution in his country he was forcefully expelled into and therefore makes him eligible for asylum.
Regardless of what happens if the removal order is reinstated or not, it is advised to consult with an immigration lawyer to fight your case. The Gambacorta Law Office is ready to defend you throughout the whole process. Our services are available in Arizona and Illinois. Feel free to contact us at 847-443-9303.