One of the benefits provided by the U.S. Government is the Diversity Lottery which was established in 1990. However, since 1991, the Attorney General decides which countries will receive the Diversity Visa Lottery program according to the statistical information that has been gathered each year. Each country is evaluated and considered as a High or Low Admission country or region.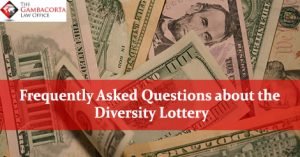 The Diversity Visa Lottery is another opportunity for immigrants looking to enter the United States of America, with authorization. However, there are stipulations that all applicants must meet, and there is no guarantee that a foreign national will receive one.
If you consider applying for the diversity visa lottery ensure that you ask questions or ask for legal advice before entering your personal information. Below you will find a series of questions most frequently asked by those interested in legally entering the United States of America.
What is High or Low Admission?
A country with High Admission is one whereby 50,000 foreign nationals have received a permanent residency visa. In order to support diversity, the High Admission regions or countries do not receive visas under this Act.
What other Privileges will I receive with a Diversity Visa Lottery?
Besides the privilege of living and working in the United States, each individual is granted legal entry into the United States of America and will receive the most coveted green card.
If I am registered as the primary applicant, will my wife be able to apply separately as a principal applicant? Will this create conflict and disqualify us both?
Every applicant participating must submit an application regardless if they are a married couple. However, each individual must ensure eligibility, to avoid disqualification. If either spouse is nominated the other can apply as a derivative dependent.
Can I apply if I am already the Beneficiary of a temporary U.S. Visa?
Yes, you can apply for a DV-2017 even if you are the beneficiary of a temporary U.S. Visa.
If I am chosen, can I change my previous address to my current one on my application if I have moved?
Yes, you can, but make sure to contact the Kentucky Consular Center as soon as possible.
Is there a Registration Fee for the Diversity Visa Program?
There is no Registration Fee; it is free. However, if you are chosen you must pay visa fees at the U.S Embassy or U.S. Consulate in your home country at the time of your interview. Always Be on the alert for scams pertaining payment of the Diversity Visa Lottery fees.
Work with Experienced Immigration Attorney
If you are still uncertain about how to apply and what to expect while you wait to be selected for a Diversity Visa Lottery, it is best to contact an expert immigration attorney for legal advice. Feel free to contact The Gambacorta Law Office at 847-443-9303 for an office consultation. The Gambacorta law team is here to meet your needs.