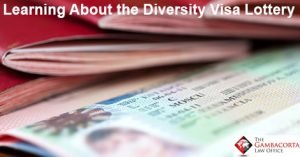 For those who are interested in pursuing legal entrance into the United States of America through another visa classification, the Diversity Visa Lottery is another open door of opportunity. Applicants must bear in mind that like any other visa category this type of visa has certain stipulations everyone must meet.
The Diversity Visa Lottery has a mandatory application timeframe for 2016 which opened up October 1, 2014, and ended November 3, 2015. All persons wishing to participate must apply early and online through the Department of State website. Registration is free.
Countries Not on the List for the U.S. Diversity Visa Lottery
The Diversity Visa Lottery provides 50,000 green cards annually to all countries except: Bangladesh, Brazil, Canada, China (mainland born), Colombia, Dominican Republic, Ecuador, El Salvador, Haití, India, Jamaica, Mexico, Nigeria, Pakistan, Peru, Philippines, South Korea, United Kingdom (excluding Northern Ireland), and Vietnam. These countries are excluded because approximately 50,000 legal foreign nationals have entered the United States during the last five years.
If You are Undocumented and in the U.S. DO NOT APPLY
Unlawful immigrants are advised to not participate in the U.S. Diversity Visa Lottery due to their current status. Each person applying has no guarantee they will receive a diversity visa. The reason why the undocumented must not apply is that the opportunity of being selected is 1 in a million.
However, if the application is successfully selected, the green card will be handled at the designated U.S. Consulate of the foreigner's native country. Once you are unlawfully present in the U.S. and you apply for the diversity lottery, you are bound to become subject of a 3 to 10-year bar before entering the United States.
The Diversity Visa Lottery is something to consider if you are residing in the U.S. on a temporary visa or you are still a legal resident, however, the probability of obtaining a visa through the lottery is very difficult as millions worldwide apply for the most desired green card.
Totals of How Many were Chosen
For 2015, the DV-Lottery chose a total of 157 persons from the Republic of Ireland and 41 from Northern Ireland. Statistics have shown that over 9.3 million qualified entries were submitted.
Requirements:
Note well, that every applicant is allowed one opportunity to apply for the diversity visa lottery. Therefore you cannot apply again if you have done so once since the electronic system online will ensure that everyone registering must abide by this regulation.
You must be able to submit biographical information and meet the stipulations of work and education, either a minimum of a high school diploma or 2 years of training or working experience within the past 5 years in a particular field that qualifies for the diversity visa lottery.
Throughout the process, applicants must provide a photo and photographs of any family members included.
Upon successful application, a special confirmation number will be sent out to applicant which can be used to check status online. Always ensure to have your confirmation number stored safely.
All beneficiaries of the Diversity Visa Lottery will be randomly selected online. The stipulated timeframe for the distribution of the total 50,000 green cards will start at the beginning of the fiscal year 2016 on October 1, 2015.
Consult with a Knowledgeable Immigration Lawyer
If you are in need of assistance and don't know where to start, an immigration lawyer can assist you. Contact the Gambacorta Law Office today for a free office consultation at 847-443-9303. Our Offices are located in Arizona and Illinois.
Related Post :