Applying for asylum or refugee status is not an easy task as they are not automatically granted to applicants. Foreigners seeking to obtain asylum or refugee status must be able to persuade the U.S. government of credible fear.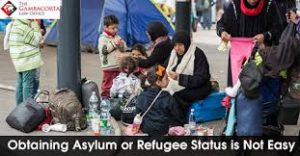 While a few immigrants may not be able to prove that they have a genuine fear of persecution others have indeed experienced brutal persecution and are able to present a real fear of persecution if they are to return to their home country, either way, they might be denied such benefit by the U.S. immigration.
Individuals who might be barred from acquiring asylum or refugee status may include:
people who have participated in persecuting others
those who are a threat to the U.S. government or security
and those who have securely Adopted another country as their home country.
Applicants Who have Participated in Persecuting Others
The United States government will immediately decline the application for an asylum or refugee status of an applicant who has participated in ordering, encouraging or helping in the persecution of any other person whether male or female, man or child based on that individual's nationality, religion, race, membership or allegiance to a particular social group or political opinion.
In this instance, this rule has been administered to military and police officers who were formerly involved in persecuting minorities or guerilla troops, even though these applicants genuinely fear for their lives, as members of these groupings are plotting revenge against them.
Applicants Who Present Themselves as a Threat to U.S. Security
No one who is declared guilty of a felony, "namely a specific serious crime" by the verdict of a jury or the decision of a judge in a court of law, and is a great threat to the United States of America will be provided with asylum or refugee status.
Although there is no set list of specific serious crimes, each decision made is done according to the facts presented on each case as every case is different.
Note that while all aggravated crimes are recognized as serious crimes, a few crimes that may be acknowledged as misdemeanors, when being prosecuted will be classified as serious crimes at the time an application for asylum or refugee status is examined.
No person who has been convicted of a serious nonpolitical crime outside of the United States will be admitted into the U.S on asylum or refugee status. On the contrary, those people whose crimes were not serious or political in any manner might stand a chance to qualify.
Consider this example here, if you were arrested for participating in a protest or resistance, this could help your case. If you are still uncertain and afraid to release your information about a previous conviction then it is best to consult with a seasoned immigration attorney before proceeding with your application.
Furthermore, no individual who has engaged in any terrorist attack, who can be identified as a serious threat to U.S. security will be given asylum or refugee status.
Applicants Who have Securely Adopted Another Country As Their Home
An immigrant who has left his/her home country and has adopted another country as his home country and is secure in that other country while applying for asylum or refugee status in the U.S. may have his/her application refused.
Reasons for this is that foreigner who has applied for safety in the U.S. has already:
received permanent residency or citizenship in another country
made groundwork towards permanent housing and has traveled from the country they are currently living in
attained economic stability due to his involvement in education, employment and or professional business events within the country he or she has settled in.
Call an Experienced Immigration Law Attorney
U.S. immigration law officers can be very hard to convince. It is very important that before applying for asylum or refugee status you consult with an experienced immigration attorney.
You will be able to weigh out your options and your attorney may be better equipped to convince the immigration officials. You will also receive the assistance you will need throughout the entire application process.
Feel free and give us a call at 847-443-9303. The Gambacorta Law Office and team will gladly assist you and fight for your case.