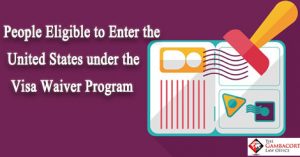 For most foreigners entering the United States with a tourist visa, it is necessary to submit their B-2 Visa applications at a U.S Consulate.
Although this is the route for many, if you are under the Visa Waiver Program there might be an exception to rule and you might not be obligated to the U.S. tourist visa requirements if:
You are from a country that is connected to the list of the State Department's Visa Waiver Program (VWP). These countries have ties with the United States of America and are granted easy accessibility to travel in and out of the U.S. because they have a very low rate of citizens who break the U.S. immigration laws or overstay their time.
As a tourist, if you have not broken the stipulations of any previous nonimmigrant visa, for example by overstaying your time in the U.S. after your visa expired, or have not been admissible to enter the U.S for committing crimes, drug abuse, or contracting a contagious disease.
Your intention to visit the United States is for a short time not exceeding the 90 days regulation whether your visitation is for tourism or business.
When visiting the U.S. you do not plan to live and work in the U.S. permanently.
Once all these characteristics are known to be accurate, there may be an exception to applying for a visa and you might be eligible to obtain authorized entry into the U.S. under the Visa Waiver Program (VWP) if your home country is under such visa terms. Before applying for the visa waiver program you might want to consider the advantages and disadvantages.
Based on experience, people from countries within the visa waiver program often times choose to apply for a B-2 Tourist U.S. Visa as it has more benefits to security and when asking for an extension.
Estimated Time Frame on B-2 Visa as Opposed to the Visa Waiver Program
Estimated time frame on a B-2 Visa is approximately 6 months while the visa waiver program is 90 days or 3 months max. A B-2 visa grants the holder an opportunity to apply for an extension.
Foreigners entering the U.S. under the U.S. visa waiver program are restricted from certain rights such as:
The right to a court hearing in the presence of an immigration judge if the U.S. Government lifts an executive order of removal against the foreign national.
Filing a request for an extension for a longer stay in the U.S. or an adjustment of status, without having the need to leave the country.
The visa waiver program has an applicable rule that once the 90 days are expired, the U.S. government will lift executive order to have you removed from the country if you do not leave voluntarily. Although this law is firm, there are restricted exceptions to the 90-day rule. For example, if a medical emergency or some other emergency arises or if you fear persecution upon returning to your country of birth, you can petition for an extension or file for asylum.
Another special case is if you become an immediate relative to an American citizen, through marriage, or you are the minor unwed child or parent of U.S. citizen. There may be a possibility to apply for a green card unless it is proven that you never intended on becoming a resident or an American Citizen.
If your intent cannot be confirmed all your statements under the visa waiver program will be judged as false and you will be instantly disqualified from obtaining a green card. The United States Citizenship and Immigration Services (USCIS) is very firm about their policies and U.S. immigration laws if they are violated.
Stipulations to Follow Under the Visa Waiver Program
Even though you may not be obligated to go to a U.S. Consulate to obtain a U.S. visa once under the VWP there are a few stipulations to follow:
You must be the holder of a valid passport with an expiration date that is over 6 months away from the duration of your stay in the U.S.
Purchase a return flight ticket to country of birth.
Always file your visa application and obtain the authorization from the U.S. State Department's Electronic System for Travel Authorization (ESTA).
Collect evidential support to corroborate your claim that you have enough funds to pay for all your expenses and that there will be no need to seek out a job while in the United States of America.
There is a fee to pay when arriving at the U.S. borders.
If you are from one of the countries selected by the visa waiver program, a Form I-94W will be provided to you by the airline, bus, shipping company or other transportation service, upon your arrival to the United States of America. Through the Form I-94W, border officers will determine if you are inadmissible to the U.S.
Be Prepared to Answer Questions at Port of Entry or Border
Upon arriving the United States of America, the Customs and Border Patrol (CBP) officer will examine your Form I-94W and other supporting documents. The border official will also check your name on an electronic database system to see if you have overstayed any previous U.S. visas, or if you have any criminal history, espionage or any involvement in terrorist activities.
A customs border patrol officer has full authority to deny entry to any individual entering the United States of America if they are not pleased with information shown on the electronic database. A CBP official has the right to dictate that you are sent home instantaneously, without a court hearing or another person's opinion.
The advantage to entering the U.S. under the Visa Waiver Program is that upon a denial a person can return to the U.S. at anytime. If when entering the U.S. with a B-2 Tourist Visa you will have to wait for at least 5 years before being able to apply or even re-enter the U.S. if you are denied entry into the country.
Consult with an Immigration Law Attorney
If your country is under the Visa Waiver Program and you would still like to apply for a B-2 Tourist U.S. Visa but are still doubtful because of some criminal offense you committed several years ago, you will need the advice of immigration attorney.
The Gambacorta Law Office is ready to assist you with advice, and legal representation. Feel free to call us at 847-443-9303. Our offices are located in Arizona and Illinois.