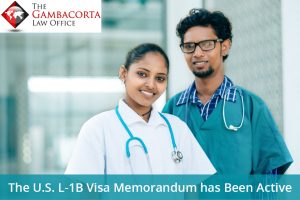 The L-1B is a non-immigrant visa category for "Specialized Knowledge Staff." Specialized knowledge is defined as the advanced special information obtained through education or experience that can be used as a skill by an individual for a certain organization.
Such specialized knowledge is not limited to teachers in elementary or secondary institutions, colleges, or other academies, engineers, lawyers, architects, surgeons, and physicians.
An individual possessing such specialized knowledge must be an expertise or competently skilled to meet his or her employer's demands.
This means that people with only a general knowledge or those experts that are not versatile enough to produce a number of products or render services, may not qualify for an L-1B Visa.
The L-1B Visa is a Temporary Visa
The L-1B Visa is usually only valid for a limited time frame of approximately 3 years but can be lengthened for a duration of up to 5 years. After visa expiration, the L-1B recipient can re-apply, but must show proof that he was employed for an extent of 1 year.
However, there is an alternative way around this, the applicant can re-apply to enter the U.S. under a non immigrant visa classification, in the L-1A Visa Category.
Difficulties in Obtaining an L-1B Visa
Though the L-1B Visas for workers and overseas employers have a high rate of denial, applicants can also apply for an L1-A Executive/Manager visa, even though acquiring an L-1A is quite challenging, the denial rate is less higher.
USCIS has announced that denial rates are increasing on a yearly basis. This has called for a reform in officers handling the L-1B applications which has led to the declaration of an Ultimate Policy Memorandum (PM-602-0111) which will be activated as of August 31, 2015.
USCIS officials make final decisions on cases based solely on the evidence and importance of the specialized knowledge provided by applicants under its entire circumstance.
Indicating whether the beneficiary applying of an L-1B possesses special or advanced knowledge, must be proven by the US employer if they are frequently reserved in their organization.
Such proof must be substantiated by comparing the employee's knowledge with that of others in the same company, while there is a strong possibility that an individual's specialized knowledge can grow his or her skills in that particular field or area of specialization.
Recommendations by the New Memorandum
The New Memorandum recommends that applicants provide substantial evidence to reinforce their L-1B Application so that:
Their specialized knowledge is extraordinary and is not generally known by other employers.
Petitioners do not need to demonstrate that their specialized knowledge is unusual to their employer, such evidence is required to be submitted.
It is important to research the availability of employees within the U.S. labor market so as to make a discovery that specialized knowledge is uniquely held.
Differentiating between employees might be an effective method, but not for finding that there is another employee with such specialized knowledge.
The focus may not be on status or rank but rather specialized knowledge of applicant
Eligibility for other non immigrant visa types may not disqualify person from applying for an L-1B.
Speak with an Immigration Attorney
For assistance from an immigration attorney with your L-1B Visa or another other type of visa contact The Gambacorta Law Office today! We will gladly assist you, with all your immigration needs. We are licensed in Arizona and Illinois.
Related Links :