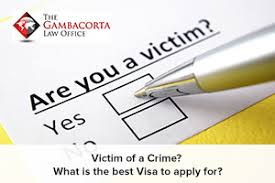 There are three practical visas granted by U.S. Immigration authorizing victims of crimes to enter the U.S. to testify or help law enforcement solve criminal cases.  Examples of these visas are:
The U-Visa for victims of serious crimes
The T-Visa for victims of human trafficking
The Violence Against Women Act (VAWA) self-petition for abused spouses and certain parents and children of U.S. Citizens and Legal Permanent Residents.
If you have fallen victim to a violent or serious crime, you may find it challenging to decide on which of the three visas mentioned above will be the best for your circumstance.  In some cases you might qualify for more than one visa.  Case in point, a victim of human trafficking may qualify for both the U and T-Visa categories.  Victims of domestic abuse may be eligible for both a VAWA and a U-Visa which may further provide the opportunity to apply for a U.S. Green Card.
When to Apply for a U-Visa or a VAWA?
If you are the victim of domestic violence, it is important to know that U-Visas have a limit of 10,000 each year.  In the past U-Visas have reached there maximum limit before the year has ended which may force the applicant to wait until the following year to apply in which the applicant may run the risk of losing his/her chance at obtaining a U-Visa if he or she is no longer needed by law enforcement in solving a criminal case.  With VAWA applications there are no such restrictions.
VAWA Applicants MUST Have an Eligible Relative When Applying
VAWA which stands for Violence Against Women Act has also given men the option to apply providing an avenue for battered and abused spouses (specific parents and children) to receive a U.S. Green Card without the participation of the legal permanent resident of U.S. citizen relative who is abusing them.  Individuals may be eligible if:
Your spouse is a legal permanent resident or U.S. citizen and he or she abused or battered you or your child (under 21 years of age)
Your parent or stepparent is a legal permanent resident or U.S. Citizen and he or she abused or battered you (and you are unmarried and under 21) or
Your adult child (over 21 years of age) is a U.S. citizen and he or she abused or battered you
Nevertheless, if you are applying as an abused or battered spouse (or a spouse whose child was abused), you must:
Have been or be married to a legal permanent resident or U.S. citizen and have lived together for some time
Have been divorced, there must be some sort of evidence between the time you divorced and endured abuse
Lastly, your marriage must have been entered in good faith.
Being engaged or simply living together will not qualify you for a VAWA visa.  If the relative who abused you is not a legal permanent resident or U.S. citizen, VAWA benefit will not be granted to you.  Primarily, VAWA does not offer protection to couples who are cohabitating and if you are abused or battered by your parents and you are over 21 or your U.S. citizen child has abused you but is under 21 the applicant is unable to self-petition.
Speak to an Immigration Attorney
Want to learn more about the VAWA, T and U-Visa and how to differentiate which one of these visas is best for you, seek the advice of an immigration lawyer Mesa.
Contact The Gambacorta Law Office today for an office consultation 847-443-9303 our team will gladly assist you.  Our offices are located in Arizona, Illinois and Texas.