One of the most common avenues that foreigners come to the United States is through temporary work visas.  These visa classifications are: H-1B, H-2 and L-1 among others.  Sometimes the visa application procedure may have no delays because the applicant's U.S. citizen employer has filed an I-129 Petition for Alien Worker with United States Citizenship and Immigration Services (USCIS) along with the appropriate documentation. When this occurs the visas are usually approved and the foreigner can start working in the U.S.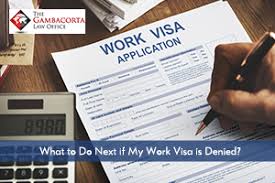 However, an approval for a work visa is not always guaranteed.  A denial can be issued for several reasons.  For example, immigrants must have certain qualifications; if the applicant lacks the required qualifications then USCIS will deny a work visa.  Another basis on which a work visa can be denied is if the employer will not be monitoring the foreigner's work or that evidence of a bona-fide job position is not found which claims that the foreigner will be taking on a new job position or that the immigrant will not work during his or her stay in the U.S.
If you have been denied a work visa, it is very important that the applicant, the petitioner, employer and the immigration lawyer you hire examine the reasons why USCIS issued a denial.  Being able to understand the explanations for the denial puts the applicant in a better stance to tackle the issues a second time around when the employer decides to submit another I-129 on his or her's behalf regardless if he or she is inside or outside of the U.S.
My Work Visa was Denied, and I am outside the US.  What Other Alternatives are Available to me?
There are two options available if USCIS denies your work visa while you are outside the U.S.  Your U.S. employer can file an I-129 Petition for Alien Worker, a second time around and address the flaws USCIS uncovered in the initial application.  For example, if your U.S. employer submitted an I-129 petitioning for an H-1B status on your behalf, one of the requirements for an H-1B status is that the foreign worker must possess at least a minimum of a bachelor's degree accredited by a U.S. institution or the foreign equivalent of such a degree for the type of work that will be done.  Now in the absence of a degree, there is a probability to meet this requirement by providing supporting documentation of specialized training, experience or any other type of education.  If USCIS did not find the needed information the first time around be sure to include it in your new application.
H-1B visas have an annual cap on how many visa petitions are accepted every year.  Chances are your U.S. employer filed your I-129 Petition late and that is why your visa application was denied.  Your only option is to file the next year within the stipulated time.
If you still want to travel to the U.S. you can apply for a different visa category you are qualified for.  Before you start the application process to enter the U.S. it is in your benefit to seek legal assistance.
My Work Visa was Denied, and I am in the US.  What Other Alternatives are Available to me?
When a U.S. employer files an I-129 Petition on behalf of an applicant that is in the U.S., an employer simply does two things: request a new employment based status for his employee and asks USCIS for an expansion of his or her employee's legal status to remain in the U.S.  Consider this example: a foreigner who is in the U.S. under an F-1 Student visa whose student program is coming to an end but then wants to stay and work in the U.S.  For the immigrant to work in the U.S. an employer needs to file an I-129 Petition for Alien Worker asking USCIS to change student's status from an F-1 Student Visa to H-1B status and to also extend the length of stay in the U.S.  If the petition is denied, the U.S. employer can try again by providing USCIS with a new Form I-129 application along with more supporting documents to corroborate his/her claim in an attempt to prove that his or her employee deserves another chance at remaining in the U.S.
After that attempt, if nothing is resolved the alien can apply to extend his F-1 Student visa to further his studies at a master's program that may accept his credentials.  The advantage to having a student visa is that a grace period of 60 days is granted from the end date of the degree program and during this time you can finish up and exit the country.  Contact an immigration attorney to help you with the application process.
Talk to an Immigration Lawyer
Going back and forth between collecting evidence for your application and talking to your U.S. employer can be time-consuming.  Call an immigration attorney to help you discuss what's best for you.  The Gambacorta Law Office team will help narrow down your options and stay with you until your case has been completed.  Contact us today at 847-443-9303 to visit us at our Arizona office or at 847-443-9303 for a consultation in Illinois