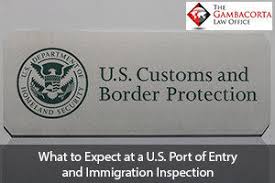 All visitors entering the United States of America must check in at a Port of Entry whether they are arriving via air, land or water.  Many have questions about what to expect when undergoing an immigration examination and its process.  If you as an entrant have doubts about travelling to the U.S. always contact an immigration attorney to educate you about the immigration inspection process.
Why Do Custom Border Agents Inspect People?
Custom border agents inspect people to find out their true purpose and duration of their visit.  When entering you must apply for authorization into the country during your intended stay and you will be granted permission.
Note that border agents have the authority to decide whether or not to let you in the country, make sure to follow rules when crossing any port of entry.  Answer all questions to the best of your ability.
How do CBP Officers Handle each Inspection?
CBP officials check passports, visas and other documents for every person crossing the port of entries.  Every individual must stop at a key inspection station.  Questions will be asked to verify nationality and identity. All documents in hand must be provided and once the officer has them to his availability he will carefully examine each document and will then decide if you can enter the U.S.  Majority of foreigners and visitors fingerprints are taken along with a digital photograph.  Once you are approved, the CBP officer will determine under which status you will remain and how much time will be granted to stay in the U.S.
Questions to Expect
CBP officers will ask questions like, "What is your intended purpose in visiting the United States of America?" "How long are you planning on staying?" "Where and with who will you be staying?" You will also be asked about your specific qualifications and any other questions that support your claims as a visitor and your planned trip.
Important Notice
Immigration Officers are trained experts in orchestrating immigration inspections and are able to recognize people who have secret agendas who intend to enter the U.S. under fake intentions.  They also have the power to search your luggage or electronic devices such as phones, laptops or computers for evidence that your trip is legitimate.
CBP Agents can Exercise Authority
Coordinating immigration investigations is not an easy task for Customs and Border Protection agents.  Though they are there to serve you, they are given full jurisdiction to determine whether a visitor should enter the U.S.  An admission stamp will be provided only when you have successfully completed a thorough examination.  CBP officers can at any time demand a second review of all your information.  If you find yourself stuck at any of the U.S. port of entries, request the assistance of an immigration attorney.
Speak with an Immigration Attorney Today
If it is your first time travelling to the U.S. or the second and you find yourself under heavy scrutiny by any border agent and you find that it was unnecessary, you can always ask for the assistance of an immigration attorney and one will be allotted to you.  If you are stuck at a port of entry in Arizona call The Gambacorta Law Office at 847-443-9303 and we will always be ready to assist you.