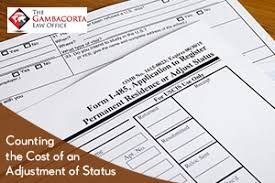 Applying for an Adjustment of Status within the United States of America can be an expensive and lengthy process.  Before adjusting your immigration status consider your eligibility because being physically in the country to start with the procedure does not entitle anyone to being eligible.  If in doubt talk to your nearest immigration attorney for guidance.  An immigration lawyer will navigate you through your available options.  Bear in mind that with this application comes various expenses such as: attorney, application and other associated fees.
Adjustment of Status Application is Costly
When pursuing an adjustment of status, another person either a close family member or employer needs to petition on behalf of the applicant in order to file a petition so as to prove to the United States Citizenship and Immigration Services (USCIS) that you qualify for a change of status.  Note that when petition is submitted, if the petitioner does not pay the fees, the applicant must be able to pay those fees and any others.
Regarding Fees for an adjustment of status you can visit the USCIS website or ask your attorney.  The prices range for each classification depending on age and even if your are a child filing with a parent or parents.  Everyone above the age of 14 but below the age of 79, applying, must pay USCIS $85 for a biometrics appointment.  For a recent update regarding fees for an adjustment of status ask your attorney and visit the USCIS webpage.
Certain applicants can submit an application for a fee waiver if they are unable to pay.  In most cases, this is rare, but it is applicable for anyone seeking to apply for a change of immigration status.  Talk to your legal representative for more information.
Regardless of the cost of an adjustment of status it is best to file all three forms.  The USCIS fee for Form I-485 covers your application for an employment authorization document (EAD) Form I-765, and advance parole when submitting your Form I-131, Petition for Alien Relative within the United States.  If uncertain ask attorney.
Lawyer Fees
Before proceeding with an adjustment of status, retain an immigration attorney to assist you with weighing out your options for eligibility and the cost for your case.   Your lawyer can help you with a budget plan as well as the analysis and assembly of your supporting documentation.  Remember that the services of an immigration attorney are not free.  Be prepared to pay between $3000 and $5000 in addition to the application fees and government fees.  Depending on how complicated your case may be you might end up paying more.  In most cases attorneys give their clients an estimate in advance or a flat fee that can fit their budget plan and may require a deposit at the beginning and another at the end of your process.  Many factors influence how much you must pay attorney:
The number of persons applying together (more people applying the higher the fee, however each additional individual after the primary applicant may be given a discount)
Whether you ask an attorney for assistance to fill out applications (a separate fee will be included)
If your case has any specific difficulties (e.g. criminal record that may require additional analysis and preparation to clear it up)
An additional application of a waiver of inadmissibility (this may demand more time spent on case and an increase in an hourly rate.
Phone calls, mailing, and photocopies, may oblige attorney to charge another fee
Attorney's availability for USCIS interview will cost you more
If you receive a request for evidence from USCIS because a decision cannot be made on your eligibility for adjustment, you must pay another fee separately for the RFE.
An appeal for a denial from USCIS will demand an individual fee.
Other Fees to Consider
Application Fees
Medical Exam
Biometrics Appointment
Transportation
Every Immigration Case will Cost You
When applying for an adjustment of status consider all the details that need to be covered financially.  Ask your attorney every possible question when it comes to his or her services and the entire total you must pay for your case.
The Gambacorta Law Office is here to help with your adjustment of status as well as working out a plan to fit your budget.  Call us today at 847-443-9303 for an appointment at any of our offices in Arizona, Illinois, Texas.