Each application process has a list of requirements along with specific stipulations in which applicants must follow. Failure to provide the appropriate information requested by the USCIS and meeting deadlines promptly, could result in a denial.
If you are uncertain about what to include in the RFE you received, it is best you hire a professional immigration attorney to assist you.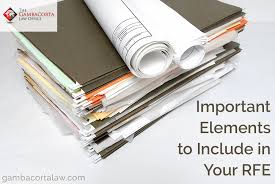 Evidence that Must be Included within Your RFE
Certain RFEs will request documents that the USCIS is missing. An example, the USCIS might ask an applicant to submit a copy of their spouse's passport or birth certificate as evidence of a bona fide marriage.
In most cases, an RFE is easy to understand but the applicant must carefully examine the necessary elements along and include supporting evidence to see if there is any additional items that can strengthen their case. The more evidence provided, a reviewed for the second time, the better chance of approval.
Other times the instructions on an RFE seem more complicated and USCIS may ask for the provision of additional information that proves you to qualify for immigration benefits. Understanding what has been requested from you and knowing what to provide before submitting your RFE is very important to your case.
If you are still uncertain on what to provide it is best you retain an expert immigration attorney who can help collect all the required documents and examine the RFE.
Compiling and Sending your RFE Response
The moment you receive an RFE Response make a duplicate of the RFE Notice and keep it for your  records. The original RFE Notice will be the first page on your response packet, be certain that it is the first page, because USCIS will scan this sheet and forward it for further inspection. Failure to include the RFE Notice, specifically placing on top of your packet, could result in a much longer delay.
Provide a cover letter that details all the elements you are submitting. The cover letter must be compiled in a similar manner as the RFE Notice so the USCIS officer administering your case can see that all requested documents have been provided. Also make a copy of all your supporting documents and keep them in a safe place for your records.
Another important element your RFE must carry is your mailing address. Do not mail your RFE response to any other previous mailing address you may have sent supporting documents before.
Send your RFE response via Priority Mail with delivery confirmation, this way you have evidence that you followed instructions accurately and met the timeframe allocated.
Difference Between an RFE and a Notice of Intent to Deny (NOID)
Do not be alarmed if the USCIS sends you a Notice of Intent to Deny (NOID) instead of an RFE. While a NOID may appear to be a detrimental discovery, there is still hope, but you must respond immediately and it is definitely recommended that you hire an Immigration Lawyer who will help assess and strive to save your case.
Receiving a NOID may indicate that your application packet has already been examined by a USCIS official and though you may have provided strong supporting evidence you do not qualify for the immigration benefits you may have filed for.
Receiving a NOID may express that you must provide more compelling evidence to prove to USCIS that you should be approved. A NOID must be handled with a higher priority.
Your Application is Halted when an RFE is Issued
After the issuance of an RFE, the USCIS halts all processing on your current case. As soon as an applicant's RFE response is received by USCIS, all processing is reactivated and the applicant can then anticipate further activity from USCIS within a 60-day timeframe, if not a little longer.
For further assistance in responding to an RFE issued by the USCIS contact an immigration attorney. The Gambacorta Law Office will gladly assist you. Please feel free to visit our website. We are licensed in Arizona and Illinois.