Do not be dismayed if you are issued an RFE (Request for Evidence) from the USCIS. Receiving an RFE may appear to be a problem to many, but simply put, you are given another opportunity to respond correctly. In most cases, many applicants are denied even before they are given an RFE. While you may have many questions, it is important that you respond quickly and thoroughly to your RFE.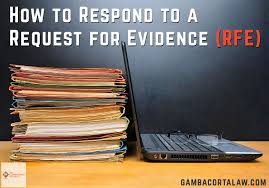 When an RFE is issued by the USCIS, they are simply requesting more information to substantiate your case, so they can move forward with your application process.
Applicants must be aware that it is necessary to comply within the given time frame, usually 30 to 90 days and not to exceed 12 weeks. The time allocated by USCIS allows the officer managing your case more time to make a positive decision regarding your case.
FEAR NOT an RFE does not Mean a Denial
Fear not if you are issued an RFE! As mentioned above the RFE simply means that the USCIS wants more information from you so they can decide whether you can be approved. If you are given an RFE, be thankful that you have been given another opportunity to rectify your immigration application. Make sure to provide substantial information to persuade immigration officers to validate your case.
Most importantly, be sure to respond on time. Failure to reply before the given deadline may result in the USCIS deciding that you neglected the given application and they then have the ability to render a denial or finalize your case with an unfavorable response which could result in a denial. If you relocate, it should be your top priority to notify the USCIS of your new address, as you do not want to miss any mail from the USCIS.
One Opportunity, Three Options
USCIS only gives you one opportunity to respond to an RFE within the given time frame. The following three options are available when you receive an RFE:
Provide every necessary evidence the first time
A "partial response" like submitting some of the evidence that was requested will notify USCIS that you are interested in receiving closure based on the information you provided
You can remove your application
According to the stipulations given by USCIS, it is better to provide all the requested information at the same time. Do not send additional evidence on separate mails. Make sure that you are including all the necessary information requested if you forgot to include some documents and later send more evidence before the deadline, chances are USCIS will not consider this extra evidence when finalizing a decision on your case.
However, if you are not able to find particular documents and time is not promising, you should at least give a partial response. Case in point, certain employment-based visas demand that applicants provide proof of professional and educational qualifications.
In some cases, USCIS may provide an RFE asking for several specific documents that may not be obtainable at the time you receive your RFE. Providing USCIS some evidential information is better than submitting nothing at all.
If you have received an RFE and need assistance with your response call The Gambacorta Law Office today. An expert Immigration Attorney is ready to help you navigate through this confusing process.