The United States Immigration Law does not take overstaying your visa lightly. United States Immigration rules and regulations are strict, and many fail to comply and wind up in a whirlwind of immigration problems.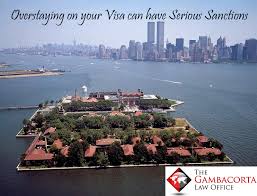 Prior to the 1996 Reform that was orchestrated to protect people overstaying their time the U.S., there was no harsh penalties, even though many faced deportation.
Those who overstayed a visa were still able to obtain immigration welfare like, receiving an adjustment of status after paying a civil penalty fee, applying for Asylum, cancellation of deportation, departure and reentering the country was optional.
Categories of Most Commonly Overstayed Visas
Countless people have overstayed their visa. The primary categories of visas that have been overstayed include:
B-2 Visitor Visa
H-4 Spouse
Tourist Visas
Other Non-immigrant Visas

Since changes have been made to the U.S. immigration system, and the advanced technology including an automated system, accompanied with the application of Machine Readable Passports, the entry and departure of every traveling immigrant is now tracked and recorded in the U.S. immigration system.
Penalties for Overstaying a U.S. Visa
Holders of a U.S visa who overstay their time will be officially prohibited from reentering the United States for a period of 10 years or 3 years based on the amount of time overstayed.
Your current visa will be nullified
You will be further prevented from applying for an extension or adjustment of status.
Over-stayers will not be able to receive a renewed visa.
Adjusting Status in the U.S will not be possible.
Waivers for Non-immigrants and Immigrants 3 or 10-year Ban
1. Non-immigrants: The 1996 Reforms included a waiver for 3 or 10-year ban for non-immigrants. Non-immigrants are able to petition for a waiver for grounds of inadmissibility under section 212(d)(3).
2. Immigrants: The regulation does not grant a particular waiver that has a 3 or 10-year ban for immigrants who are spouses of permanent residents and American citizens.
Prevent Overstaying your Visa
Prevent overstaying a visa and its sanctions by:
Inspecting the date of expiration on your Form, I-94.
Return to your home country before the approved time-frame granted to stay in the U.S. expires.
Ensure that you record the date of your departure. Be certain that you store your traveling itinerary, airline tickets, boarding pass and make sure your passport is stamped when entering and leaving the United States.
Failure to comply with the rules and regulations of U.S. immigration may end in stiff penalties. Jeopardizing your privilege to travel to and from the United States of America.
Speak with an Experienced Immigration Attorney
It is always recommended that you do not overstay a U.S. Visa, but if you have found yourself facing such a situation, you will need an Immigration Attorney to handle your case. Please contact the Gambacorta Law Office at 847-443-9303. Our team will be glad to meet your legal needs.