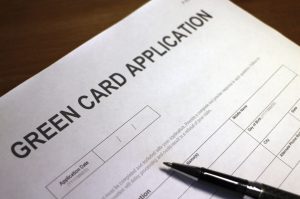 If you are a foreigner that qualifies for a U.S. Green Card through an employer or family member, it is important to know that this does not mean you will immediately obtain your green card.
Initiating the application process can take a while, the USCIS is very thorough and you will likely require the assistance of a professional Arizona Immigration attorney. Be mindful that the process can be long and slow as the United States government has a lot of responsibility on their shoulders.
What to Think About?
Do you want a lawyer or do you want to go through the process on your own? Since the process is lengthy and can sometimes be overwhelming, having legal assistance will save you time and frustration.
Determine your budget for the Process and the Legal Fees. Pricing varies depending upon the application but you also need to consider the lawyer's fees. Hiring a lawyer may cost more to start, but will ultimately save you money in the future.
Receiving an approval notice from the United States Citizenship and Immigration Services (USCIS) for this Visa petition may take a few months to several years, so it is important to be patient.
Remember that when you send your application form it can be delayed or even lost. This is where your immigration attorney can keep on top of the USCIS and help you to stay updated in regards to your status. Also, the USCIS website has a case status feature that allows all applicants to keep track of their green card application process status. Ask your immigration attorney for more information about this available tool.
If you are applying for a Green Card based on a family relationship, consider that the petitioning family member may need to be present for an interview at a USCIS office or U.S consulate in your native country. During the interview you will be asked questions after your application has been reviewed. If you do not speak English and you are living in the United States you may need a translator to assist you for the interview.
Filing for a Green Card Through your Employer
Did you know, that filing your green card application process through a willing employer requires waiting for the employer to complete a Prevailing Wage Petition and receive a prevailing wage determination from the United States Department of Labor or the National Prevailing Wage Center? The PWD or prevailing wage rate informs employers on the average wage rendered to employed individuals who hold similar job positions in a particular area.
Your employer then files a labor certification on your behalf and you may be asked to provide information to your employer throughout the application process. The application filled out by your employer will be a Form I-140, if it is a family member it will be a Form I-130. The Visa Petition proves that you have been given employment by a certain employer or that you are the petitioner's family member, depending on your particular situation.
Acceptance
Depending on the outcome of your interview, if everything works out as planned you may receive a visa for authorized entry into the United States of America or a letter of approval, if you are adjusting your status in the U.S. After this your green card should arrive a few weeks later, but on the basis of your priority date from the day your visa petition (I-130 or I-140), or labor certification was received by the proper government office.
In Conclusion
If you have decided to begin the green card application process it is wise to hire an Phoenix immigration lawyer. Though the process may be lengthy, tiresome and confusing our professional legal team is here to assist you. Visit our website at The Gambacorta Law Office. If you are concerned with any Immigration Law issues you might be facing, we are here to assist you every step of the way.