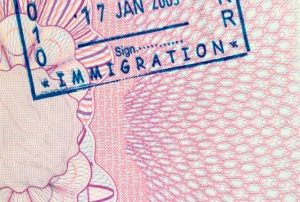 The United States Citizenship Immigration Services renders aid by yielding T and U visas to victims of crimes such as: human trafficking, violent sexual abuse, and domestic violence.
Victims possessing T and U visas may have the opportunity to apply or request a T and U Non-immigrant status from the USCIS to have their family members present with them in the United States of America.
Before any family member enters the U.S. they must go through Consular processing, at either the U.S. Department of State, United States Embassy or Consulate in the foreign country victim's family are residing.
Ultimately, the decision is determined by the USCIS whether or not the family members that are overseas qualify for a derivative T or U non-immigrant status.
Also, the Department of State (DOS) independently decides if family members are eligible to obtain a T or U visa for legal entry into the U.S.
What a Derivative Family Member May Mean
A derivative family member is an individual who is closely related to the principal victim, that is the holder of a T or U nonimmigrant visa. The family members status will derive from the primary victim who petitioned this family member.
If the chief victim is under 21 years of age, he or she can only apply or petition on behalf of a parent, child, spouse, unmarried sibling that may be under the age of 18 years.
If the key victim is over the age of 21 years he or she can apply or petition on behalf of a child or spouse.
Seeking an Adjustment of Status
If you are the holder of a valid T or U visa, you are eligible to apply to for an adjustment of status for permanent residency to remain in the United States.
When applying for status adjustment you must use a Form I-485 and as a recipient of a T or U visa you must prove certain facts.
These facts include:
That you have been residing in the United States for three years since being granted a T or U nonimmigrant status.
The timeframe can be proven since the initiation of an investigation or prosecution against human trafficking crime or other criminal offenses.
Attorney General must validate that investigation or prosecution is finalized.
You have demonstrated an exemplary moral character since obtaining a T or U nonimmigrant status.
You have not refused but have given voluntary assistance throughout entire investigations or prosecutions against crimes.
Though there may be other concerns after having obtained a T or U visa, an immigration attorney can help you with any questions you may have.
For further assistance regarding any questions or concerns you may have, please visit our website and schedule an appointment from The Gambacorta Law Office or call us at 847-443-9303. We are licensed in Arizona and Illinois.