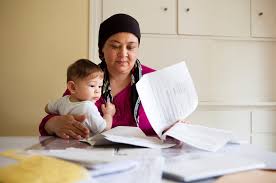 Secretary, Jeh Johnson, for the Department of Homeland Security has delivered a system of policy guidelines for handling unauthorized immigrant families.
Johnson has stated that major changes must be made when applying their rules in terms of treatment provided to detained families.
According to statistics released by the U.S government, the numbers of children detained in 2014 increased and U.S. Officers swiftly made themselves available and rendered assistance in working with the unauthorized foreigners.
Federal Statistics released by the government have shown that near the end of 2013 to the summer of the following year, the United States authorities detained over 60,000 unescorted children. These migrant children were ages 12 and under, by the end of 2014 this number added up to around 80,000.
Immigrant spokespersons along with Human Rights and the American Society have placed their concerns for these undocumented and unaccompanied children.
Not to mention Government officials are sacrificing their home lives by working overtime in efforts to find an appropriate place for these detained youngsters.
In May 2015, the Immigration and Customs Enforcement declared new rules and procedures for handling detained families and children. In June of this year, Secretary Johnson publicized more changes amongst the policies already present.
NEW POLICIES
The system will offer detained families an opportunity to be released into residential centers if they can successfully produce a substantial case of reasonable fear of persecution in their native country. This presents an opportunity to request Asylum.
The U.S government will assess minimizing bond amounts to levels that are fair and practical, according to Johnson, they will consider; payments, safety, and flight risk of the detained families.
Resolving cases for detainees and timeframe for interviews will be shortened. Gathering sponsorship information and correct addresses will also help ICE maintain control of time and will guarantee compliance from the detainees.
Detained families will receive education on their rights and duties, as well as their required presence in court sessions and other stipulations.
The government will swiftly relocate foreigners who may not have a case for remaining in the U.S.
The bigger picture is that Central American countries and families will follow the U.S authorities plea in hopes to ensure a safer and legal route for children migrating into the United States of America.In 2014 the Department of Homeland Security instituted an in-country refugee processing program in Guatemala, El Salvador and Honduras. It is designed for children who are currently living in the U.S. with proper authorization.
If you or someone you know has had issues with a detained family or migrating children and they are in need of assistance to petition for asylum or other opportunities, you can contact us at The Gambacorta Law Office.