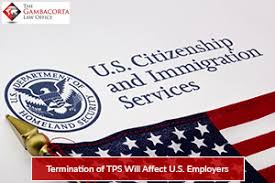 Recently, the Trump Administration announced several major developments regarding the employment eligibility of hundreds of thousands of immigrants lawfully working in the United States of America.  In previous months, United States Citizenship and Immigration Services notified the public that the Temporary Protected Status has ended for foreigners from: El Salvador, Haiti, Nicaragua, and Sudan, living in the U.S.
Benefits of the Temporary Protected Status
Though TPS is not designed to provide individuals with Lawful Permanent Resident Status, beneficiaries from these foreign countries cannot be deported and are allowed to work with an Employment Authorization Document (EAD) on a short-term basis.  Designees are only permitted to live in the U.S. temporarily because of their home countries being affected by conditions that have prevented their safe return.  Some of these circumstances are: natural disasters, war, communicable diseases, or other phenomenon's and temporary conditions.  Hundreds if not thousands have benefitted from working in the U.S. for over 10 years and have probably risen into managerial and executive positions.
Time Given for Transition of TPS Removal
USCIS issued scheduled dates for TPS holders which will allow them enough time to move or seek out other opportunities:
For El Salvador, September 9, 2019
For Haiti, July 22, 2019
For Nicaragua, January 5, 2019
For Sudan November 2, 2018
Within this timeframe, TPS bearers will have time to extend their status and their employment authorization document.  A 60-day period has been allotted in which foreigners can apply for an extension for their status and work permits.  Nicaraguans will be able to re-register their TPS until February 13, 2018, Haitians and Salvadorans until January 18, 2018 and will be in processing through March 19, 2018.
U.S. Employers Impacted and Obligated to Cooperate
In preparation for the transition, it is advised that all employers review their internal systems for rechecking employment eligibility for their employees that are on the verge of expiring and to consider completing a Form I-9 Audit to verify the ongoing employment eligibility of their labor force.
For some immigrants their TPS has already expired or is likely to expire in the near future.  Normally, an invalid EAD document is not a legal record for the purpose of authenticating employment eligibility because workers who qualify to work with an EAD are routinely able to renew their work permits before they expire.  Due to the exceptional circumstances that envelope the temporary extension of work permits for TPS recipients, a currently expired EAD in combination with proof that the authenticity of the expired EAD was spontaneously extended is deemed a lawful List A Document for TPS recipients.  Instructions have been allotted to U.S. Employers to complete or make corrections on Form I-9 for TPS beneficiaries who have invalid work permits.
Part of the requirement from the Federal Register, employees who provided a genuine TPS work permit since the first time he or she started working must now present documentation that their EAD was extended.  Only through the TPS program will an employee be able to automatically extend his work permit by providing an explanation regarding his or her outdated employment authorization document.  A Form I-797C, Notice of Action along with the expired EAD bearing the Category A-12 or C-19 to prove that the EAD has been extended.
All employers registered on E-verify will obtain a "Work Authorization Documents Expiring" case alert when the automatic extension time-frame is about to expire.  Upon getting notification, employers are required they update their workers to fill out Form I-9 and follow procedure.
Businesses May Need Assistance from Immigration Attorney
If your company or organization needs help with updating employees TPS and EADs, consult with an immigration attorney today.  Call The Gambacorta Law Office at 847-443-9303 for a consultation.  We are also located in Illinois, Arizona, Texas and Vietnam.