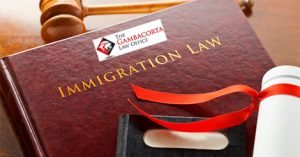 Properly filling out application forms that need to be submitted to USCIS can be confusing especially if English is not your first language. Even though USCIS provides free resources that can guide you through the entire application, not everyone is able to understand the instructions.
Many applicants prefer retaining an immigration attorney to help them with the applications. Others rather have an unauthorized person help them with the entire immigration process.
These uncertified individuals are only permitted to do the following:
Read the Application Form
Translate immigration forms to the English language from the applicant's foreign language
Write information the applicant provided in proper places
Anyone can help you but their assistance will be limited to their knowledge, and they could still charge you for their help. This type of individual should only charge a small fee and must not declare that they have expert training or knowledge in U.S. immigration law and its procedures.
When in doubt about which legal immigration benefits you are eligible for or which USCIS application form to complete and submit, get legal guidance from an authorized service provider. A legal representative has the authority to help with the entire application process.
Approved Immigration Service Providers
Approved immigration service providers include:
The Role of Licensed Immigration Service Providers
They can give legal advice on how to properly complete immigration forms and submit them to the correct office locations.
Give a detailed explanation on the options available for immigration benefits
Communicate to the USCIS office regarding your case.
Any qualified immigration lawyer or BIA authorized agent can represent you before United States Citizenship Immigration Services (USCIS).
However a document known as a Form G-28 must be submitted along with the petition. Your representative then has legal authority to receive information from USCIS.
Authorized Officials
An authorized official retained by a distinguished BIA agency may represent a client before a USCIS office. Others are licensed to represent an individual in the presence of the Executive Office for Immigration Review (EOIR). BIA-authorized representatives or lawyers can provide legitimate counsel.
Authorized officials are known to work for BIA-authorized nonprofit, philanthropic, pious, social services or similar groups in the United States of America. Be aware that authorized officer will request small payments for his or her work done.
What to Look For when Retaining a BIA-Accredited Spokesperson
Before working with a BIA-Accredited Spokesperson from a BIA-authorized corporation look for these things:
Carefully examine the BIA website for the List of Accredited Representatives and Recognized Organizations.
Request the BIA order that grants the application of the approved association.
Solicit the BIA order that authorizes the person you are hiring as an accredited spokesperson. An authorization for the accredited representative is only valid for 3 years.
Ensure that the BIA order is still effective and that he or she is qualified to represent you before USCIS. The authorized representative should be quick to provide you with any and all necessary information pertaining his accreditations.
Analyze the List of Current Practitioners. Those accredited spokespersons who are on this list and have a "no" in the last column on the right, are not certified to offer legal guidance. Do not be afraid to ask the authorized representative if he or she has been reinstituted; request a copy of the reinstatement order from the Board of Immigration Appeals.
U.S. Immigration Attorneys
Ensure that the U.S. immigration attorney you retain is:
Certified to specialize in U.S. immigration law and is a reputable member of the bar of the highest court, any state, possession, territory, commonwealth or the District of Columbia.
Is not subject to any executive order of any court, enjoining, restraining, suspending, disbarring or otherwise obstructing that attorney from practicing law.
Take note that U.S. immigration attorneys are not required to be authorized in the state they live or work to represent you in the presence of USCIS.
Once they are eligible to specialize in U.S. immigration law and are well recognized in every jurisdiction where they are legally certified they are able to represent clients in an immigration court or USCIS office.
Finding Authorized Immigration Service Providers Online
The Board of Immigration Appeals has provided a list of attorneys who offer legal services free of cost or at an affordable fee, in the state you live in and another list of accredited representatives and authorized organizations. The American Bar Association (ABA) also has information on locating legal services and representatives within your state.
Safeguard Yourself
Take precaution when speaking with "Notarios" also known as public notaries. Notarios in several foreign countries are known to be powerful attorneys, this is not true of them in the United States.
Notarios, immigration consultants and businesses are not authorized to provide immigrants with legal counseling; they can only do so if they have official permission from the Board of Immigration Appeals.
Be extremely cautious before making any payments to an individual who is not an accredited U.S. immigration attorney or BIA representative or is working for an organization acknowledged by BIA.
Concerned Because You Live in a Foreign Country
Living in a foreign country should not be a problem for an immigration lawyer to represent a client. That lawyer must be recognized and authorized to practice immigration law outside of the U.S. to be able to represent anyone who has applied or petitioned for a U.S. government benefit from his home country, however this is dependent on whether the Department of Homeland and Security (DHS) officer, allows such representation.
Consult with a Good Immigration Attorney
If you have other concerns about your immigration status speak to an immigration attorney. The Gambacorta Law Office is an authorized service provider. Please call us today at 847-443-9303 for an office consultation.