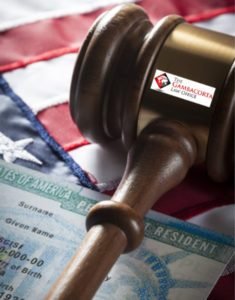 Foreigners who are currently holding a U.S. green card are concerned about travelling outside of the United States for fear they are not allowed back into the country. If you are uneasy about leaving the U.S. speak with an immigration attorney for assistance.
Documents You May Need When Exiting the Country
Simply put, you will need to present a passport from the country of citizenship or refugee travel documents when leaving the United States of America.
Additionally, be mindful that the foreign country may have entry and exit stipulations (for example presenting a visa and passport may be required).
For more information on overseas entry and exit regulations, visit the Department of State website.
Present these Documents when Re-entering the United States
When re-entering the United States after a short term travel to a foreign country, you must present a valid (Form I-551, Legal Permanent Resident Card).
Note that upon entry into the country, a U.S. Customs and Border Protection Officer will examine your lawful permanent resident card and any other documents you may have on hand such as a:
Passport
U.S. Driver's License
and Foreign I.D.
Agents will decide whether you will be admitted into the United States. Feel free to visit the U.S. Customs and Border Protection's homepage.
Travelling Abroad May or May Not Affect Your LPR Status
Residents with a legal permanent resident status have the freedom to travel outside the United States. Short term travel will not normally affect one's LPR status.
Once an officer finds that your intentions were not to make the United States your permanent home, you will be considered to have forsaken your legal permanent residency. One quick way to find out if you have deserted your LPR is if you have been out of the U.S. for over a year.
Forsaking your resident status can be identified in the form of taking multiple trips of less than a year; this can affect your status. However, temporary trips overseas may not generally affect you.
Factors to Consider
An immigration officer may look at your immigration and travel history and see that you only intended to visit a foreign country on a short term basis.
He might also review whether you kept U.S. family and community ties intact, as well as your U.S. employment, and whether you submitted your income taxes as a legal resident.
Most importantly your intentions of returning to United States and making it your permanent home will be carefully analyzed.
Other aspects that may be taken into consideration whether the U.S. is your permanent home are:
Whether you kept your mailing address,
U.S. bank accounts,
Valid U.S. driver's license, and still
Own personal property in the United States.
If you are managing a business in the U.S., and any
substantial evidence that supports your brief absence.
Being Absent for Over a Year
Your absence from the United States for over a year can affect your resident status. If you make plans to be away for over a year it is recommended to apply for a reentry permit known as Form I-131.
Receiving a re-entry permit before travelling out of the U.S. may grant a lawful permanent resident the opportunity to apply for admittance into the U.S. as long as it is not expired.
The recipient of a re-entry permit will have no need to apply for a returning resident visa from a U.S. Consulate or Embassy within home country.
Though there is no guaranteed entry into the U.S. when in possession of a reentry permit; an immigration official will decide whether you are considered admissible into the country, once allowed to enter this will show that you permanently intend to live in the United States.
A problem will arise if you stay outside of the United States for over 2 years. Any re-entry permit that was provided to you would have been expired by then.
This means that you will need to apply for a returning resident visa known as the SB-1 classification at the closest U.S. Consulate or U.S. Embassy in your home country.
Obtaining an SB-1 resident visa will be challenging as applicant must be eligible for an immigrant visa and must prove that their legal permanent resident status was not abandoned.
Being absent from the United States for longer than six months may obstruct the continuous residency requirements for U.S. naturalization.
Note that if you plan on being away for a year from the United States and you desire to preserve your continuous residency in the U.S for naturalization purposes it is advised to submit an Application Form N-470 to Preserve Residence for Naturalization Purposes.
Speak with an Experienced Immigration Attorney
If you are travelling out of country temporarily or long term consult with an immigration attorney to avoid any surprises on your way back into the United States.
The Gambacorta Law Office and team will gladly assist you. Do not hesitate to contact us at 847-443-9303. Our offices are located in Arizona, Illinois.