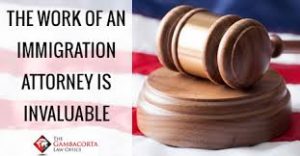 The work of an immigration attorney is not as easy as one might expect. His role in assisting you entails writing supporting documents on your behalf, speaking to witnesses if necessary, examining your possibilities in obtaining a U.S. government benefit and speaking on your behalf at the court hearings.
Retaining a professional lawyer to defend you during an immigration court case is a serious decision because he or she can be very pricey. A well seasoned attorney can make a huge impact in enriching your experience and having a great influence on your immigration court case.
When you have an immigration lawyer working on your case you must anticipate certain things. Below you will find some pointers to assist you.
Review NTA Document, Determine Plea and Develop Defense Game Plan
Before initiating removal proceedings, the U.S. government must provide you and the immigration court with a Notice to Appear (NTA) document. After your attorney examines the NTA with you, he will help you determine a plea. If any piece of information is incorrect, the attorney will inform the immigration court.
Your attorney is also responsible to help you ensure that the U.S. government provides evidence against any of the charges brought forth against you. If no proof can be made against the charges, your lawyer can push to have your removal proceedings removed.
On the other hand if the charges against you are accurate and you are considered deportable from the United States, you must notify the Immigration judge handling your case, what your defense game plan against the removal will be.
Now remember, let your attorney analyze your situation to decide what alternatives you may have for your defense. Then both you and your attorney will evaluate your available options and will come up with the best plan of action for your immigration case.
Fill Out Application Forms and Collect Supporting Evidence
After you have determined the best plan for your defense, your immigration lawyer will fill out application forms on your behalf. You will need to be proactive in getting all the necessary supporting evidence or documents, but normally your attorney takes the leading role in preparing all applications to provide the Immigration Court.
Expect your attorney to work along with you and your family to collect all the applicable supporting evidence. These supporting documents are: Documentation of your presence in the United States, information concerning your family members, affidavits, letters of support from friends and family members, country condition reports, and other documents your attorney may advise.
When it is time to submit all the required supporting documentation to the immigration court handling your case, ask your attorney if there are specific rules that must be met when submitting your immigration court case packet. It is important to ask so as to avoid getting your packet rejected by the immigration court.
Preparing You and Necessary Witnesses for Your Merits Court Hearing
Take note that when hiring an immigration attorney, to defend your immigration case, he will be the one to speak throughout all of your master calendar hearings. Master calendar hearings are known as preliminary hearings.
However, your final hearing is known as the individual hearing, this is different because during this hearing you will personally testify concerning your defense strategy. Based on your defense strategy, other witnesses will have the opportunity to testify in your defense as well.
In terms of your individual calendar hearing, this is the most important court hearing, it is the last time and the most important break you, your immigration lawyer and the government lawyer may get to testify. The immigration judge then decides your fate after hearing all the relevant testimonies.
Due to the seriousness of your individual court hearing it is very important to be thoroughly prepared. Prior to your individual calendar hearing, your immigration attorney should examine your application with you and prepare you for questioning in court.
Your lawyer will prepare all witnesses for questioning so that you are aware on what to expect and ready to answer those harder questions that the immigration judge or government lawyer may ask you.
Other things to Consider
With a seasoned immigration attorney on your side you can be certain that you will receive all the help you will need for your immigration case. Your immigration lawyer has faced many immigration judges, so he knows very well how to prepare you and your case and what to anticipate in court.
A removal proceeding is very critical, especially if you lose your case, as an Order of Removal can be executed against you.
Not only are removal proceedings very serious, they can be very confusing if the parties involved are in disagreement of the charges made against you. This is why your immigration attorney takes charge in answering all your questions for you.
Ultimately, not every individual immigration case is won. Regrettably, if you are not eligible for any defenses from removal proceedings or your supporting evidence is not strong enough, retaining an attorney will not make any difference. Regardless of your situation, an attorney will help you see all your possible options so that you can expect the unexpected.
If you are going through removal proceedings do not delay in hiring an immigration attorney. The Gambacorta Law Office will be glad to fight in your defense. Feel free to call us at 847-443-9303.