A Master Calendar Hearing (MCH) is the initial hearing in an immigration case that is programmed to remove an undocumented foreigner from the United States of America. Therefore the immigrant is bound for removal proceedings and then deported based on the case and an immigration judge's decision.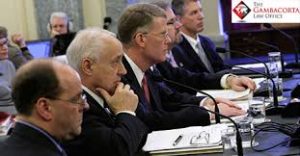 During the MCH the foreign national will appear before an immigration judge and a government attorney to decide how the case will be handled.
The judge has all authority to arrange dates for the proposal of written documents and individual hearings in which each of the elements within the applications or claims and defenses will be explained.
Read more, if you have legal representation, your immigration attorney will speak in your defense.
Getting Ready for a Master Calendar Hearing
Preparing oneself for a Master Calendar Hearing is not an easy task especially when you are not familiar with the U.S. immigration laws or acquainted with the different U.S. offices or if you do not have an immigration attorney to help you.
Once you have received a Notice to Appear (NTA), make sure to review the date and place of the upcoming Master Calendar Hearing. Be sure to attend your MCH, even if your attorney is presenting himself.
You are allowed to bring family members but be sure that they have lawful immigration status, in order to avoid them being detained. You should not bring children to court hearings and it is vital to dress appropriately.
Arrive early to your Master Calendar Hearing, as to prevent getting held up going through a security checkpoint; security checks can take a long time to be completed.
Appearing in court late may jeopardize your case as you may be ordered, deported "in absentia" this means that in your absence, the judge will execute an order of deportation against you or simply reject your legal declarations or defense.
Documents to Bring to MCH
Aim at staying informed on how your local court administers cases. Always bring along essential documents that can help your case such as:
Notice to Appear (NTA)
Passport
Drivers License
A calendar (to mark your calendar for dates for scheduled hearings)
Other hearing notices or court documents you may have.
And other documents your attorney may request you take along with you.
It is very important to plan ahead so you can manage your time wisely and to avoid being put on removal proceedings by some technicality or late arrival to court.
In the meantime… If you need legal representation, seek an expert immigration attorney that can advise you on how to prepare for your court hearing. The Gambacorta Law Office can help you prepare for your MCH. For an office or phone consultation, call us at 847-443-9303. Our offices are located in Arizona and Illinois.