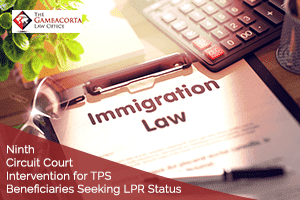 Temporary Protected Status was legislated in 1990.  The authority was given to the secretary of the Department of Homeland Security to choose respective countries for TPS.  TPS is designed to cover immigrants who travelled into the U.S. and who cannot return to their home country due to the harsh circumstances affecting their countries.  A few of the temporary conditions that are considered by USCIS are:
Continuous civil unrest, war or protest
Natural disasters (e.g. hurricanes, earthquakes or an outbreak of a disease)
Extreme unforeseen temporary circumstances
Thousands of foreigners who hold a temporary protected status are now eligible to file their applications for Legal Permanent Resident Status as long as they meet the specific requirements.
The Intervention of the Ninth Circuit Court
In 1999, Ramirez entered the U.S. without inspection and thereafter applied to obtain TPS.  In 2012, he married a U.S. citizen who then, filed a Petition for Alien Relative (Form I-130) on his behalf.  The United States Citizenship and Immigration Services approved the submission on April 16, 2013, in contrary the application for adjustment of status was served a denial by USCIS on that same year.  USCIS observed that Ramirez's first entry was illegal; he was not inspected or paroled at the port of entry by an officer.
On March 31, 2017 a three-judge panel from the Court of Appeals for the Ninth Circuit made a decision in the Ramirez v. Brown, ___F.3d__ (9th Cir.2017) case, which greatly increased the ability for foreigners who are in the United States of America to possibly become eligible for an adjustment of status under section 245 of the Immigration and Nationality Act (INA).
When his case was reviewed by the Ninth Circuit Court, a federal district court judge challenged the final decision (made by USCIS) that was not in accordance with section 245(a) of the Immigration Nationality Act (INA).  According to the Temporary Protected Status policy all beneficiaries of TPS are recognized as inspected and admitted for purposes of adjustment of status; the Ninth Circuit Court declared that fact.
Since the Ramirez case was examined and overturned by the Ninth Circuit Court, beneficiaries of TPS can benefit from the opportunity of applying for Legal Permanent Status and rewards granted by the U.S. government.
A Few Benefits for Aliens with TPS
Once you have been approved for TPS you will receive these benefits temporarily with the possible opportunity of obtaining legal permanent Resident Status:
You will be able work, (apply for an employment authorization document (EAD).
You will be protected by U.S. immigration & you cannot be detained or deported by Department of Homeland Security (DHS) or U.S. Immigration Customs Enforcement.
You provided with travel authorization.
Since the amendment made by the Ninth Circuit court TPS beneficiaries can now apply for lawful permanent resident status. Note that all requirements must be met and fees paid.
Speak to an Immigration Attorney
If you are the holder of temporary protected status in the U.S. and you are seeking a legal permanent resident status in the United States talk to an expert immigration attorney.  Facing a legal battle against the ninth circuit court can be a lengthy process.   Contact The Gambacorta Law Office today at 847-443-9303 for a consultation at any of our office locations in Arizona, Illinois and Texas.