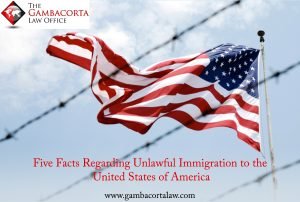 The figures of undocumented immigrants residing in the U.S. has declined in previous years after decades of swift development. Reason for this stabilization is the changes made in the countries they were born and the states where they reside in.
The declaration made by President Obama's executive action on immigration, on November 20, 2014, would have provided deportation relief to half of the undocumented community; however, it was put on pause due to a lawsuit, which ended these administrative orders.
This decision-making on immigration was a historic move, Obama's previous action was a major relief from deportation granted to illegals since 1986, when Congress effectuated a law that permitted 2.7 million undocumented foreigners to receive a green card.
5 Facts About the Unlawful Immigrant Community in the U.S.
1. According to the Pew Research Center, statistics showed that in 2014 there were 11.3 million unlawful immigrants living in the United States. The population of illegals which is presently comprised of 3.5 percent of the nation's population, declined gradually, within 5 years. In 2007 the numbers peaked to 12.2 million making this total 4 percent of the U.S population.
2. Though the digits are decreasing, in previous years 52 percent of the U.S. population have been Mexicans. The Pew Research Center, estimated that in 2009 6.4 million unauthorized Mexicans resided in the U.S. and then in 2012, 5.9 million were calculated.
During the same timeframe unlawful immigrants from Canada, Central America, Asia, the Caribbean, and a collective group of nations from the Middle East, the African Continent, South America, and Europe, flocked to the United States of America.
3. 6 States are Deemed Responsible for 60 percent of Unlawful Immigrants. Texas, Florida, New Jersey, California, Illinois and New York. However, there has been a shift. From 2009 to 2012, an increase of unlawful immigrants have flocked the East Coast states and a decrease has been shown in the Western states.
The population of undocumented increased in 7 states and they are: Florida, Idaho, Maryland, Nebraska, New Jersey, Pennsylvania and Virginia. There was also a decrease shown in the states of Oregon, New York, New Mexico, Nevada, Massachusetts, Kentucky, Kansas, Indiana, Illinois, Georgia, Colorado, California, Arizona, and Alabama. Regardless of such downturn Nevada had the country's largest community of unlawful immigrants at 8 percent.
4. The U.S. labor force is built up of 5.1 percent Undocumented Foreigners. In 2012 statistics showed that 8.1 million unlawful immigrants were working or in search for work. States like California had 9 percent, New Jersey 8 percent, and Texas had 9 percent of the population which was a high score of illegal immigrants working.
5. In 2012 statistics showed, approximately 7 percent of K-12 Students had an undocumented parent. Around 8 out of 10 students, 79 percent, were born in the United States.
In Nevada, mostly 1 out of 5 students 18 percent, had at least an undocumented immigrant parent, the highest percentage shown in the nation. Other states with high scores are California with 13 percent, Texas with 13 percent and Arizona with 11 percent.
Contact an Immigration Law Attorney in Arizona and Illinois
If you don't want to be a part of these statistics and you want a second opportunity at living in the U.S., legally. Feel free to contact The Gambacorta Law Office at 847-443-9303. We are committed to helping people have a better opportunity at life. Our offices are located in Arizona and Illinois.